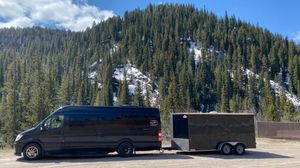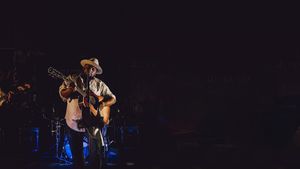 Bio
"

Put life into music, and music comes to life."
From an early age, Chuck had a guitar in one hand and a pen in the other, writing and performing in the small town of George West, Texas. In 2004, he formed his first band "Across the Tracks" with some buddies at Bee County College. As fortune would have it, he joined the military with his best friend Matt Murphy and began the first part of his journey as a story teller and songwriter. 
In 2007, Chuck deployed to Afghanistan with the 173rd Airborne Brigade as a team leader and paratrooper to the Konar river valley. Participating in operations such as Rock Avalanche and Spitamenese, there was no time for much writing or picking guitar. towards the end of the deployment, an offer was extended to apply for West Point. Jumping at the opportunity to earn a college education, the stars aligned and in 2012 he graduated with a bachelor of science in Civil Engineering. 
During his time at West Point, there was hardly time for extra curricular activities, but somehow Chuck managed to reinvigorate the band from 2004 with musicians at the academy and the spark for performing and writing was suddenly reignited in a fury. When it was all said and done, Chuck completed a total of 13 years in the military serving as a scout, paratrooper, tank platoon leader, combat engineer, and brigade operations officer.
Chuck's debut solo album release "Texas & You" released May 2018, featuring their first music video "Bar Girl" which showed some success for the band. Their sophomore album "You Should Be Mine" released December of 2019. This album featured their second music video "Stronger Than the Whiskey". as of 2021 the band released their third music video "Draw You A Map" recorded live at Sun Studio in Memphis, TN. Currently the band is working on its third studio album to be released in 2022. 
Chuck is a graduate of the United States Military Academy at West Point and Norwich University with a bachelor of science and master's degree in Civil Engineering. Although he is a Texas native, he currently resides in Springfield, Missouri. In the last year, the Band has performed over 140 shows in 18 states. From South Texas to Northern Montana and many more places in between, Be on the lookout for more music and more shows to come in 2022!
band members
Chuck Briseno - Vocals - George West, TX
Joey Rowlett - Bass - West Plains, MO
Nick Sharp - Guitar - CUSHING, OK
Todd Sly - Drums - Miami, OK
Interviews & Press Inquiries
Production & Show Advance